Where Will I Install My Wind Turbine?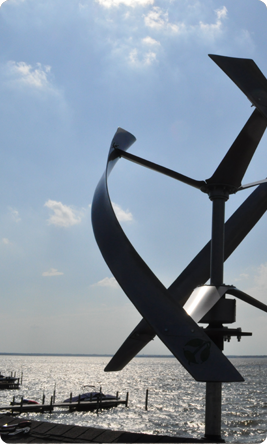 Siting the wind turbine is quite possibly the most important question you will face because higher wind speeds result in much higher power production. In fact, if you managed to double your average wind speed, you would receive 8-times more power

We offer various mounting options with our wind turbines. Most of our customers will choose a tower installation, which include 23' (7 meter),43' (13 meter), and 66' (20 meter) options. Some of our customers will opt for a roof installation.

Obstacles will negatively impact the performance of your wind turbine, so it is imperative to position the turbine where it will be above all nearby obstacles.

There are areas where a rooftop installation is best but most often this means a tower. The height of your tower will depend on the location and relationship to nearby buildings and trees. Again, your local NCE sales representative will be able to help you select the best possible location for your turbine.

Please note: Installing a wind turbine on a roof depends on many factors that can only be determined by a structural engineer. While NCE turbines have been designed to minimize cyclical loads and vibrations, every roof is made differently and only a structural engineer has the necessary skills to ensure a safe roof installation.