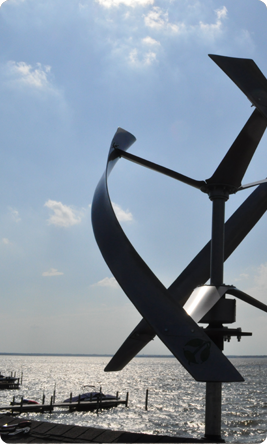 The first question you should ask yourself is if installing a wind turbine is the right choice for you. Placement of your turbine, or "siting," is of the utmost importance when deciding to install a small wind system. Fortunately, NCE offers unique assistance.
Although there are some online sources that help you estimate your local wind speed, wind varies greatly on a small scale and these online sources may not be relevant for your specific location. Fortunately, there are several ways we can assist you better!
Our first suggestion is to contact one of our local partners or one of our sales representatives. Our experts deal with siting and planning issues every day, they will be able to provide you with an estimation for the power production of a wind turbine at your location. They can alsohelp you determine the best siting on your property, be it a roof, lawn, or remote location.
Going one step further, we offer an anemometer to measure wind speeds and weather conditions on-location called the 1st Step: An easy-to-use, inexpensive, all-in-one weather station.
When you purchase a wind turbine from NCE, we will credit what you paid for the NCE 1st Step towards your new system. Please go through to the next section to learn more about siting.