Mission Critical Applications :
The versatility and integrity of this version makes it the cornerstone of the whole MASTERYS range. It has been designed to protect the most strategic and sensitive IT loads and production processes.

The embedded LAN Connection makes it a highly interactive product, capable of interacting fully with users and contributing to the prevention of system failures.

The IGBT rectifier is of course an essential component, making it possible not only to drastically cut electric pollution is respect of the mains but also enabling perfect interaction with generators, without having to overrate the system.


PRODUCT CONFIGURATIONS
| | | | |
| --- | --- | --- | --- |
| Model | Input/output | KVA | Back-up time std |
| MAS-MC 115 | 3/1 | 15 | 11' |
| MAS-MC315 | 3/3 | 15 | 11' |
| MAS-MC120 | 3/1 | 20 | 10' |
| MAS-MC320 | 3/3 | 20 | 10' |
| MAS-MC330 | 3/3 | 30 | 10' |
| MAS-MC340 | 3/3 | 40 | 10' |
| MAS-MC360 | 3/3 | 60 | 12'* |
| MAS-MC380 | 3/3 | 80 | 8'* |
Back up time at 75% of the load.
*using an external battery cabinet type W
Main Features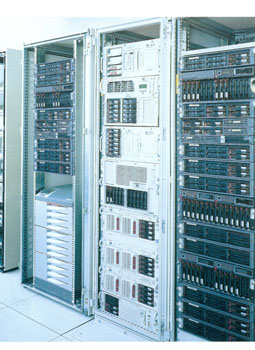 1. Mounted on wheels for ease of handling
2. Unique on the market for its extremely compact size
3.Can even be installed in 19" rack cabinets already in use at the user's premises (rack kit available up to 30 KVA)
4. Flexible back-up times: different back-up time configurations are available either within the UPS standard cabinet or by using taller UPS cabinets, where only the height increases ,floor space remaining exactly as before (W*D=444*795 mm)
5. Up to 6 units can be placed in parallel: scalability in power or high availability using redundancy
6. IGBT rectifier reducing harmonic distortion to a value of less than 3%
7. Intelligent: embedded LAN Connection for improved UPS supervision
8. Advanced graphics display for total system control
9. Redundant batteries : the battery packs are connected to each other in two distinct strings. If one battery in a string is not functioning, it does not compromise the backup time provided by all the batteries belonging to the other string.
10. Expert battery system
11. Always _on mode
12.Global supply system
13. Energy saver
13. Back feed protection(internal or external)
14.Separate back-up mains for 3/1 models
15. Internal manual by-pass